COVID UPDATE
Crazy times, eh? Gamagora Geekhouse is currently in hibernation mode and will remain so until it is safe to resume normal activities. It's just not a great time for a business that thrives on geek socialization.
But fear not!
We will be back open at a brand spankin' new location in the Spring of 2021 (probably).
In the meantime …
The website has become our virtual Geekhouse. Register to get access to the geek news posts, updates, and most importantly, the online store where you can get access to all of the cool swag we had at the physical store. Registration is different than Membership. There is no fee to get access to the website. We only have a registration approval process to make sure our online customers are local as we are only doing local deliveries at this time.
The website also serves as the virtual hub for the Member's Only Geek Lounge. Register for more information.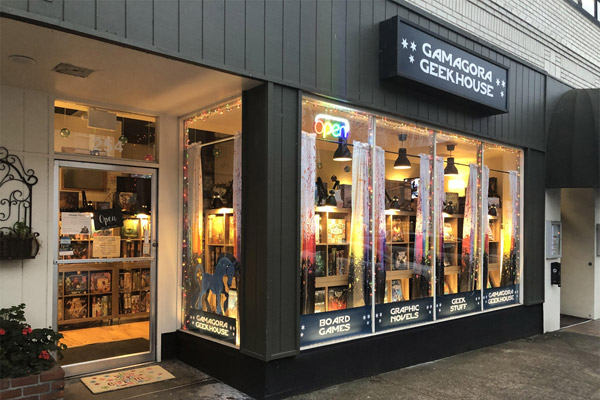 Address
Temporarily Closed
Hours
Temporarily Closed
Phone Number
541-286-8616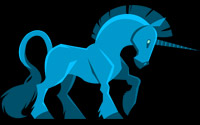 Gamagora Geekhouse is a freaking awesome geek store, coffee shop and a 21 and older members only Geek Lounge. That's really all you need to know. You want to know more? Okay, I guess I can talk a little more about my favorite thing in the world.
Gamagora Geekhouse is a lot like our mascot, a unicorn. It has parts of things you recognize, but there really isn't anything else out there like it.
The whole Gamagora adventure started as the brain child of my partner (David) and I (Brittni). We met in 2015 and spent a lot of time looking for a place to play games and hang out with other geeks. We never found a place where we felt comfortable being, well, a geek, in a non geek place. So, in 2018 we smashed together our two backgrounds and came up with our very own geek sanctuary. Gamagora Geekhouse was born.
People
Gamagora Geekhouse is all about the people. The Customers who are dabbling in the geek world for the first time, the Geeks who come to shop and chat and the Members who use the Lounge to hang out, all form the Gamagora Community.
Physical Geekhouse
Gamagora Geekhouse is the stop for everything geek. The geek store and coffee shop is the perfect place to grab a drink and peruse the curated retail of board games, graphic novels, RPGs, and geek swag. Members can play games, watch movies and hang out in the Geek Lounge.
Virtual Geekhouse
The Gamagora Geekhouse website is the online hub for our local Geek community to read reviews, get updates on the goings on at the Geekhouse and the geek world at large. It's also your access to the Gamagora online retail store. Register to get access.
Geek Lounge
The Geek Lounge is for 21 and older Members only. The Lounge has a bar, board game and graphic novel libraries, competitions, events, snacks, and is just a cool place to hang out. Register for more information on Membership.
A big part of the Gamagora Geekhouse is the Member's only Geek Lounge and Members make up about half of our Geekhouse Community. So what does it take to become a Member? What do you get as a Memeber? I will answer these and other buring questions on today's episode of MEMBERSHIP INFO!
Who Can Become a Member?
There are really only two requirements to becoming a Member, you have to be a geek, and you have to be 21 or older. You also have to be able to physically come into the Geekhouse, but I have no idea why someone would become a member if they couldn't actually come to the Geek Lounge.
How Do I Become a Member?
To become a Member you have to fill out an application. We do have limited space in the Lounge so we have limited the number of Members we accept. Because of this, there might be a bit of a wait before we can get you officially signed up.
Once your application has been reviewed and approved, we will send you the Membership Handbook with how everything works. If you're still game, you come into the Geekhouse and pay the sign up fee, we scan your driver's license and you are officially a Member.
How Much Does it Cost to Become a Member?
There is a $50 one time sign up fee and then a $5 visit fee per person, per visit.
What Does Being a Member Get Me?
First and foremost, being a Member gets you access to the Geek Lounge. There you can hang out, play one of our hundreds of Library board games, read one of our hundreds of Library books or graphic novels, watch movies, or just chill. We have had many of Members just come in, grab a drink and do homework, work, or pretend like they are trying to read Sandman but just chat with us instead.
As a Member, you will also get to participate in events like tournaments, trivia, movie nights, or special events like the Summer Passport. We also host online tournaments, so even if you can't get to the Geekhouse as often as you'd like, you can still participate in good old competition.
Can I bring Guests?
Yes, as long as they are 21 or older. There is still a $5 visit fee per person, even for guest and we do get everyone's name, email, phone number and check IDs. Each Member is responsible for their guests and vouches that they are cool, in a geeky way.
Covid Pause
While we are closed during the pandemic we will not be approving new applications or renewal applications to become a Member. But as soon as we are open, we will be getting people in as Members again. Feel free to fill out the application and we will contact you as soon as we are up and functioning again. 
More Questions…
If you have any additional questions, head over to the Contact Us Page and shoot us a message!