Star Wars: X-Wing (Second Edition)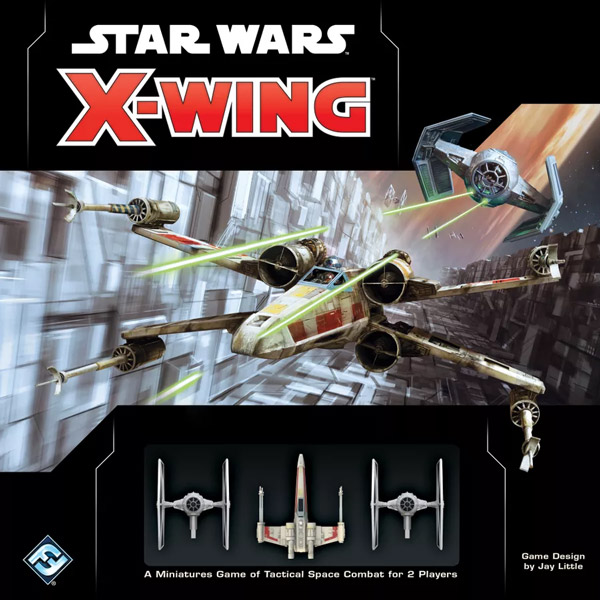 Description
X-Wing Second Edition puts you in command of your own squadron of advanced starfighters locked in thrilling, tactical space combat. Following in the footsteps of the first edition, the second edition refines the intuitive and exciting core formula of maneuvering your ships into position by placing a central focus on the visceral thrill of flying starships in the Star Wars galaxy.

During a battle, you'll use your squadron's unique capabilities to give yourself an advantage in the thick of combat. Each X-Wing ship flies differently, with its own set of maneuvers ranging from gentle banks to aggressive Koiogran turns. As in the game's first edition, you'll need to use every ship's maneuvering capabilities to the fullest in order to strategically position your ships. A round begins with players secretly selecting a maneuver on each of their ships' unique maneuver dials. Once you've decided how each of your ships is going to fly, you'll begin revealing the dials and moving your ships, starting with the lowest skilled pilots.

As you move, you'll enter a tense duel with your opponent as you both try to line up the perfect shot. Before you can open fire on an opponent's ship, however, they must be in your firing arc and within range. By carefully selecting your maneuvers, you can get enemy ships in your sights, and once you've locked onto your target, you're free to choose your plan of attack. You might pepper the enemy with blaster fire to whittle away their shields. Or, you could go for massive damage and launch a devastating volley of proton torpedoes. No matter how you approach the battle, you have complete control of your squadron. One player wins when all of their opponent's ships are destroyed!